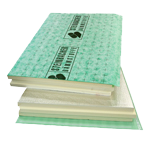 STEINOTHAN® 120 is an insulation element that is installed on roof rafters. The basis of the element is hard polyurethane foam that provides the highest level of insulation. In classical buildings, insulation elements are installed between rafters, which represent thermal gaps and cause loss of energy. With its unique system of applying insulation on rafters, STEINOTHAN® 120 provides thermal insulation without thermal gaps and enables great energy savings. STEINOTHAN® 120 is composed of:
Hard polyurethane foam
Attachment system with tongue and groove
Aluminium foil on both sides
Laminated PE foam foil across the whole upper surface
Covering tape made of PE foil with adhesive
Advantages of STEINOTHAN® 120 elements:
Highest insulation with hard polyurethane foam
Installation system enables perfect insulation without thermal gaps
Laminated PE foil provides additional acoustic and thermal insulation
Thermic joining of the covering PE foil enables strong and long-lasting connections and resistance against rain
Large format elements enable fast and installation with a small number of joints
High tensile strength that provides great stability in case of loads
Environmentally-friendly polyurethane, 100% without H-FCKW and H-FKW (partly halogenated fluorine-chlorine-hydrocarbon)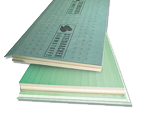 STEINOTHAN® 120 SILENT has all the characteristics of STEINOTHAN® 120 with an additional 8 mm thick PE foam foil on both sides. With this, STEINOTHAN® 120 SILENT offers unbeatable acoustic insulation, especially in case of impact noise.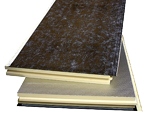 STEINOTHAN® 120 BITU has all the characteristics of STEINOTHAN® 120 with an additional 1,5 mm elastomer layer – bitumen membrane on the upper side that offer high walking safety (prevents slipping).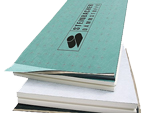 STEINOTHAN® 125 DO has all the characteristics of STEINOTHAN® 125 with an additional vapour-permeable foil on both sides, which makes the whole element vapour-permeable.
Comparison of insulation in case of heating with oil:
Calculation is based on: 10 x 10 m floor area, 120 mm rafter width, 700 mm distance between rafters, 120 mm thickness of insulation.
| | | | |
| --- | --- | --- | --- |
| | U – value (W/m2K) | Use of heating oil (litre/m2) | CO2 emissions m2/year |
| No insulation | 2.5 | ~ 25 l | ~ 70 kg |
| Insulation between rafters | 0.33 | ~ 3.3 l | ~ 9.3 kg |
| Steinothan® insulation on rafters | 0.19 | ~ 1.9 l | ~ 5.5 kg |