PRESTIGE TRADITIONAL – TEGOLA CANADESE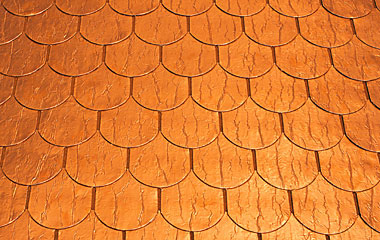 Revives tradition on the roof!
Prestige Traditional brings various possibilities of use and can be easily adjusted to different plans and ideas. Covering of bent, pointy or irregularly formed roofs has been made easy, because the Prestige Traditional shingle has a unique form. It is composed of five layers of different materials and its thickness is 3.3 mm.
TECHNICAL DATA
No. of shingles per m2:
6.9
Surface in m2 on one pallet:
134.2
Packages per pallet:
44
Colour of wrapping paper:
Copper   
Bitumen type:
Oxidised Tia-Juana and HP
Size in cm:
100 x 34

9 Prestige Traditional dimensions

Exposed part in cm:
14.5
Weight in kg/m2:
11